Review of 2022 and a Look Ahead
As we look ahead to 2023, we wanted to share some highlights of what we accomplished in 2022. Our leadership team and board had a busy year and reached some important milestones as we push toward a more equitable and prosperous future for New Mexicans.
I want to share my appreciation for the highly motivated and dedicated colleagues that help advance the mission of the Foundation including our leadership team, grantee partners, community stakeholders, funding partners and our board. I am so grateful to have the opportunity to work alongside these amazing people in support of NM families.
Connecting
The past year was remarkable in that we were able to connect and reconnect with our grantee and funding partners after not being able to meet or attend gatherings due to the public health crisis. We were able to venture out a little more to celebrate new buildings, ribbon cuttings, reimagined spaces and attend a few events and performances. Being able to connect with folks outside of Zoom, email and phone calls was the inspiration we needed to keep moving our work forward. We hope to do more of this in 2023.
Trust-Based Philanthropy Practices
We continue to work toward embedding and operationalizing the practices recommended by the Trust Based Philanthropy Project (TBPP) into the Foundation. All of our grants are unrestricted general operating grants, but based on feedback from our grantee partners as well as data from the field, we recognize that long-term flexible funding (such as multi-year grants) would be beneficial for the sector. We had the opportunity to begin the conversation around this topic with our board by inviting panelists to discuss the benefits of longer-term investments in key organizations. We also heard from the CEO of a Foundation that has already implemented many of the TBPP practices in their work.
Grantmaking in 2022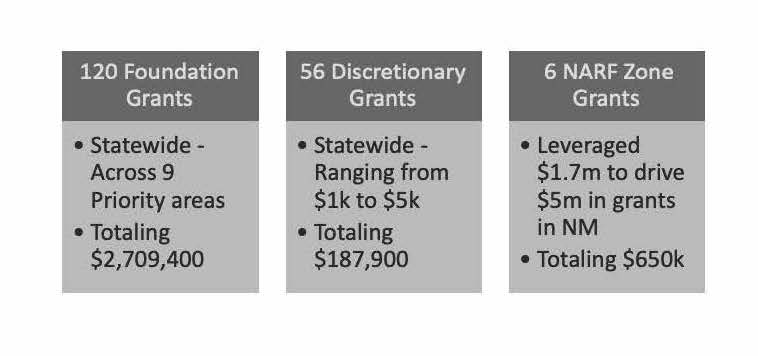 To learn more about the Native American Recovery (NARF) Zone Grants, click here.
A complete list of 2022 Foundation grantees are listed on our website.
The past year proved to be challenging for our endowment (as was the case for most Foundations that on average lost roughly 20% of their assets due to unfavorable market returns). Due to the decrease, we have a smaller Grants Distribution Budget for 2023 grants. We continue to try to cut operating expenses and reposition our portfolio to offset some of the effects of the loss and recapture assets moving forward. The award letters for the 2023 Grantee Partners have been sent out. We will be reaching out to set up a time to talk to someone from each awarded organization before October of this year.
Applying an equity lens to our work will continue to be a priority for our team in 2023. As we learn more about equitable practices and work toward implementing them into every aspect of the Foundation, we recognize that we need our funding partners to take this journey with us. As the African proverb goes "If you want to go fast, go alone, if you want to go far, go together". To that end, we have partnered with NMWomen.Org to launch an inaugural Community of Practice – Fostering Gender and Racial Justice for NM Grantmakers. The facilitated program that includes in-person and virtual meetings began in February and will run through December 2023.
In the same vein, we are embarking on the next phase of the Equitable Evaluation Project. Born out of lessons learned from our pilot project (working with an external evaluator and a cohort of grantee partners) the aim of this work is to enhance equity-based evaluation practices across the philanthropic sector in New Mexico.
On the horizon we will continue to experiment around different methods of reporting as well as learn more about different participatory grantmaking models.
Stay tuned for updates on this work as well as the Native American Recovery Zone Grant in this space. As always, we welcome your feedback and thank you for all you do in and for community.
Sincerely,
Carla Romero
Executive Director