---
The Marshall L. and Perrine D. McCune Charitable Foundation is a family foundation dedicated to the well-being of New Mexicans. We honor our benefactors through proactive grantmaking that supports increased resilience and prosperity in New Mexico communities. 

---
The Marshall L. and Perrine D. McCune Charitable Foundation is dedicated to enriching the health, education, environment, cultural, and spiritual life of New Mexicans. The Foundation memorializes its benefactors through proactive grantmaking that seeks to foster positive social change.
---
---

---
We embrace a set of values inherent to all aspects of our organization. These are inspired by our organizational leadership, our grantmaking experience, and perhaps most importantly, our relationships with New Mexicans and communities in New Mexico. These values include:
Collaboration: We believe that collaboration is key to confronting our state's greatest challenges. We value opportunities to work cooperatively with our nonprofit and philanthropic partners to identify shared goals, build alignment of purpose and co-create the outcomes we wish to see in the world.
Transparency: We believe that decisions and agreements made in the dark cast no light on the world. We value transparency in all our processes and practices to ensure that our partners trust our decisions as fairly supporting their individual communities within a shared statewide ecosystem of work and success.
Leadership: We believe that large-scale change never happens spontaneously or in a vacuum. We value the primary, positive role of informed, community-based leadership in creating change in the sectors and organizations we serve as well as within the philanthropic community.
Community Relevance: We believe that solutions developed elsewhere may not always be relevant to the diverse peoples and communities that comprise New Mexico's unique cultural landscape. We value the promise of place-based solutions by funding work that is immersed in local knowledge, reflects and respects local cultures and is relevant to each community we serve.
Diversity, Equity and Inclusion: We believe in principles of diversity, equity and inclusion to drive decision making and effect change. We value programs and services provided by organizations whose internal structures ensure diverse community participation and whose leaders share the history and culture of the communities served.
Risk Taking and Innovation: We believe that some of the best solutions are developed through a thoughtful process of trial and error. We value organizations that challenge conventional approaches by embracing innovation and engaging in measured, well-considered risk-taking to develop and implement the most relevant programs and services for their communities.
A Culture of Learning and Continuous Improvement: We believe that some of the best lessons are learned from having the freedom to take chances and make mistakes. We value organizations that aspire to a culture of learning and continuous improvement through practices of sharing, listening and building upon the wisdom gained through thoughtful and reflective community work.
---
---
---

--- ---
---

---
Sarah McCune Losinger - Chair
Aaron Cathey
David McCune Edwards
James Marshall Edwards
John McCune Edwards
John Raymond Losinger
Michelle McCune - Vice Chair
---
---

---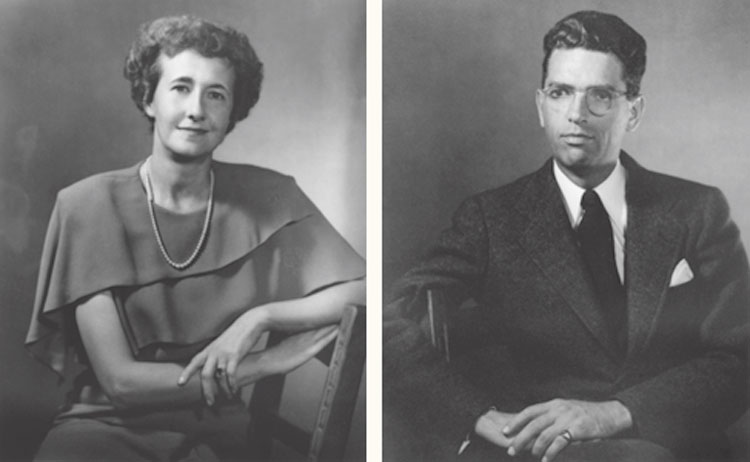 Marshall Lockhart McCune was born in Pittsburgh, Pennsylvania, on December 17, 1908, the fifth child and fourth son of a banker and an oil company heiress.  He was educated at Shady Side Academy and raised in the sixth United Presbyterian Church.  After graduating from Princeton University in 1930, Marshall volunteered as an officer in the U.S. Army during World War II and was stationed in the Far East as a Special Services Officer.  In 1946 he received an honorable discharge from the Army and was told by his cousin, who had summered at Ghost Ranch, that he should visit New Mexico. After a lengthy trip through the Southwest and West, Marshall's journey ended in Santa Fe, where he settled at Bishop's Lodge.

Perrine C. Dixon was born on October 27, 1904, in New Orleans, Louisiana. She was the only child of William A. Dixon, a banker, and his wife, Corrine Kilpatrick.  She received the finest schooling of the South. Her grandfather, Dr. Brandt V. B. Dixon, was the first president of Sophie Newcomb College, the women's coordinate college of Tulane University and the model for later partnerships such as Harvard University and Radcliffe College, Brown University and Pembroke College, and Columbia University and Barnard College. In 1925 Perrine graduated from Sophie Newcomb College. Perrine's father, never a well man, was instructed by his doctor to retire to the Southwest, as his health would deteriorate in the Gulf Coast climate. The family then moved to Santa Fe, New Mexico.

Marshall McCune and Perrine Dixon met at a party at Bishop's Lodge.  They married in Bishop Lamy's Chapel on January 6, 1949, and established residency in Tesuque. The McCunes became a significant part of the artistic and cultural life of Santa Fe, practicing a quiet, often anonymous kind of philanthropy. They were principal supporters of the Santa Fe Opera, the Maternal and Child Health Center, the School of American Research, the Santa Fe Boys and Girls Club, and other charitable causes.

Marshall died on December 13, 1975.  In 1989, Perrine established The McCune Charitable Foundation to further their philanthropic legacy.  Since Perrine's death on March 7, 1991, the Foundation has continued to honor the McCunes' vision through its grantmaking.
---
---
More Information on the Foundation's Grantmaking
More Information on the Foundation's Grantmaking