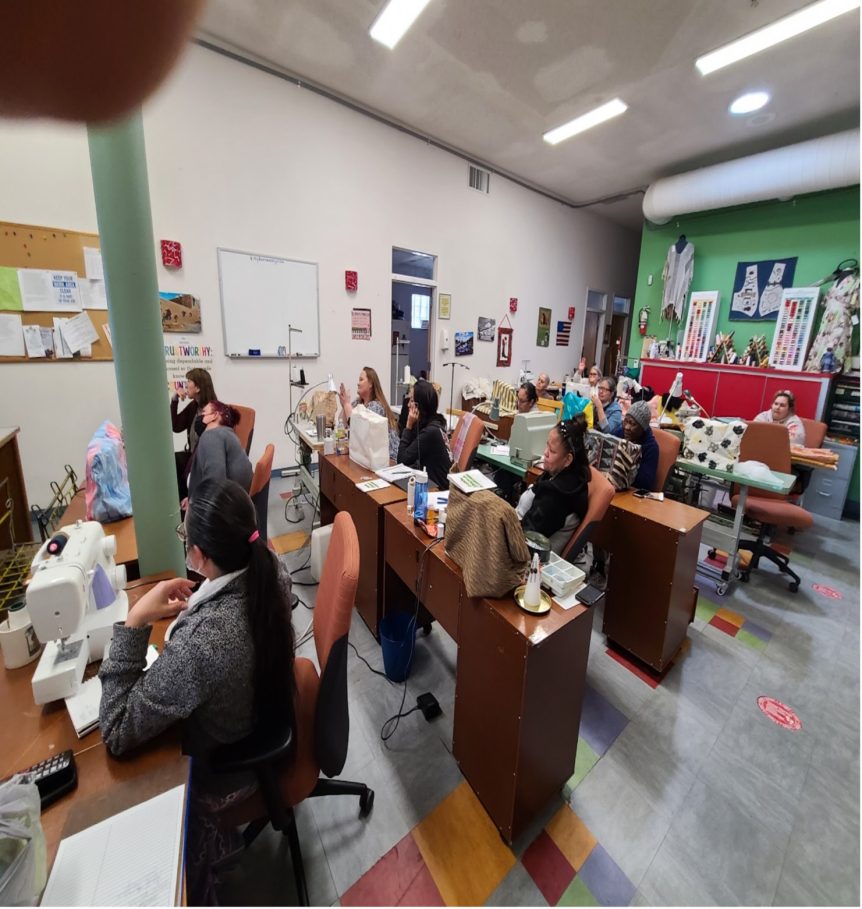 TenderLove Community Center (TLCC)
Above Image Courtesy of TenderLove Community Center
The mission of TenderLove Community Center (TLCC) is to empower vulnerable populations to achieve stable, self-supporting lives for themselves and their families through job training and life skills curriculum using sewing as a platform. We seek to break cycles of poverty and homelessness through programs that teach skills to enter or re-enter the job market after traumatic circumstances.
We connect with wrap-around services for physical and mental health, legal assistance, and recovery housing while creating pathways for their children to thrive.
In the short term, clients in our program will: experience safe secure shelter and a community of individuals working together to improve their lives; receive support and encouragement to help them determine their own worth; tap into their own creative spark and create objects that are tangible proof of their capability. TLCC's goals continue to create and expand programs that deliver vocational training, mental health service, and social assistance coordination for some of the most underserved communities in central New Mexico. Our focus on vulnerable individuals is specific enough for us to deliver efficient programming in a culturally appropriate and trauma-informed manner.
Although employment training programs are not new, our strategy focuses on the needs and preferences of women in precarious situations. Only giving people access to food and shelter encourages dependency rather than emancipation. For homeless populations, "job training" has frequently only consisted of giving them access to a computer with instructional software. Tuition-based job training programs are common, and they frequently place a strong emphasis on STEM fields with little regard for students' literacy and English language proficiency gaps or the contributions that women make to their families and communities. We provide women with the tools they need to manage their families' demands and schedules while building solid financial foundations. Everyone we help is low-income, and 95% of them are homeless or living in unstable housing (living doubled up with other families, living out of cars, in motels, or on the streets).
The TLCC now offers classes on parenting, financial literacy, a degree program in adult caregiving, community health professionals, and linkages to housing, legal, and mental health resources. We serve as a secure day shelter for women and children staying in overnight shelters because they are turned away after 7:00 a.m. Their circumstances are frequently made more difficult by the necessity to provide care for other family members when it conflicts with rigid work schedules. For these women, a thorough job training program and wrap-around support are essential to help them overcome poverty.
Our supportive community provides immediate and tangible feedback regarding our students' success. By participating in our programs, clients learn the business and legal skills needed for a small business to thrive, to start their own business, or work for others.
Learn more about TenderLove Community Center: